Tile Flooring in Evansville, IN
Give your interior a distinct look and feel by investing in tile flooring!
At Greer's Flooring America, we have everything you need to transform your spaces. As a leading provider of high-end floors in Evansville, Indiana, we offer a wide range of ceramic, porcelain, natural stone, and wood look tile flooring that will enhance the aesthetic appeal and strength of your property.
With our diverse tile flooring selection, friendly staff, and personalized approach to service, your remodeling project will be a simple and rewarding experience. Whatever your tile needs, we have a solution for you. Stop by our Evansville, IN, showroom today!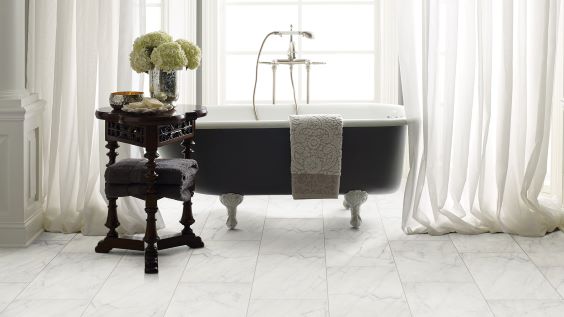 Exploring the Different Types of Tile Flooring
When it comes to selecting the right tile for your build, our experts can help you by explaining each tile's benefits and features. We carry an endless array of tile patterns, materials, and designs to meet your style preferences, budget, and performance needs. Discover the different types of tile we carry to create a space that is right for your lifestyle.
Ceramic Tile Flooring
Ceramic tiles are made from clay that has been permanently hardened by fire. An excellent choice for any room, ceramic tiles are very versatile in a variety of shapes, sizes, colors, and finishes. Our flooring store offers ceramic tiles for more than just flooring. Ask about our tile backsplashes, shower tiles, wall tiles, and more!
Stone Tile Flooring
If you're looking for a more rustic or natural design, check out our stone tile series. Travertine, marble, granite, and slate are just a few of the raw materials used to make stone tile. Because of its natural strength, stone tile is usually more durable than ceramic tile, and it can add a luxurious feel to any design space.
Porcelain Tile Flooring
Porcelain tile is created with the same method as ceramic, though the kiln-fired clay requires a longer heating period. As a result, the finish is denser and more durable than its ceramic equivalent. These gorgeous tiles are long-lasting and perform well in high-traffic areas of the home.
Wood-Look Tile Flooring
With a traditional and timeless look, hardwood flooring is a popular flooring choice. Now, with our wood-look tile line, you can have floors that look like natural wood while maintaining the strength and functionality of tile. Our collection of wood-look tiles has everything you need for your project, whether you want contemporary white oak in the bathroom or distressed antique hardwood in the kitchen.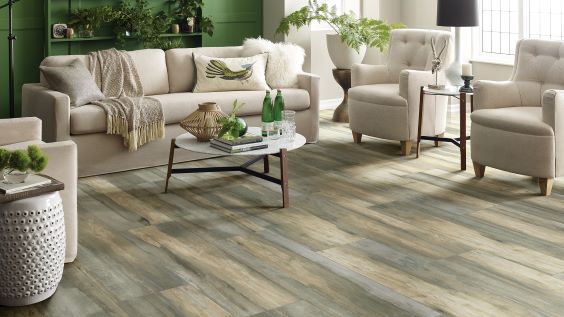 The Many Benefits of Tile Flooring
Our Evansville, IN, customers seek tile flooring not only for its stunning appeal, but also for its many functional benefits. Whether your interior design plans involve a classic ambiance or a gorgeous statement pattern, we have flooring products that will meet your remodeling goals.
We have teamed up with well-known tile brands, including Design Distinctions, Floorcraft, Mohawk, and more to offer an impressive selection of ceramic, porcelain, and slate tile. Discover the many benefits of tile flooring for your home:
Stylish and versatile design options for any renovation project.
Resists mold and mildew, reducing allergens within your home.
Waterproof and moisture-resistant, tile is perfect for kitchens, bathrooms, and basements.
Dense tile offers long-lasting durability built tough for everyday use.
Made with eco-friendly materials.
Compatible with heated flooring systems.
Why Choose Tile for Your Home Improvement Projects?
When you choose to invest in tile flooring, you are giving your Evansville home the promise of a flooring type that is scratch, heat, stain, crack, and water-resistant. As one of the strongest flooring selections on the market, your tile can withstand high volumes of traffic and use for years without visible wear. For this reason, tile has traditionally been associated with kitchen floors, backsplashes, and bathrooms.
With proper grouting, tile will block out any moisture that could potentially damage subfloors or cause mold. Active families with children and pets will marvel at how easy maintenance and cleaning is for tile flooring. Because of this, our Indiana customers continue to choose tile for a variety of home improvement projects. If you're ready to learn if tile best suits your needs, our friendly experts are happy to answer all of your questions!
Professional Tile Flooring Installations with Local Contractors
Tile flooring can be tricky to install, so make sure you don't leave it to an amateur. After discussing your options and choosing a tile that matches your taste and budget, our team of skilled professionals will perform a professional tile flooring installation. We make sure your beautiful new flooring is straight and level, properly sealed for maximum moisture resistance, and structurally sound.
With proper installation by our knowledgeable experts, your new floors are sure to look and function great for many long years to come. When you shop with Greer's Flooring America, you can sleep soundly knowing that your investment is covered by our Adore Your Floor Guarantee. Should you experience any installation-related issues, we will replace your floors at no extra cost to you. Ready to start your tile flooring renovation?
Contact us today to find the perfect tile flooring for your home! We proudly serve residents in Evansville, Princeton, and Mt. Vernon, Indiana, along with Henderson, KY.