Carpet Store in Evansville, IN
If your current floors have seen better days and desperately need a refresh, we've got you covered. At Greer's Flooring America, we understand that our tastes in home decor evolve as time goes by. That's why we're here to help you transform your living spaces with the warmth and comfort of brand-new carpet.
At our showroom in Evansville, IN, we have access to the highest quality carpet manufacturers, thanks to our impressive national 500-store buying power. Rest assured, our carpets are not only top-notch in quality but also unbeatable in price when compared to those at designer stores. From the casual elegance of Berber to the captivating patterns of cut-loop, our carpets come in various patterns, textures, and colors that are sure to please even the most discerning homeowner.
Imagine stepping into your home and feeling the plush softness under your feet as you walk across our premium carpets. Whether you want to give your bedroom a delightful makeover or create a safe and cozy play area for your child, our wide selection of carpets will surely cater to your unique style and needs. Don't let outdated, faded, or stained floors hinder the beauty of your home any longer. Step into the world of modern living with Greer's Flooring America, your one-stop shop for exquisite carpets!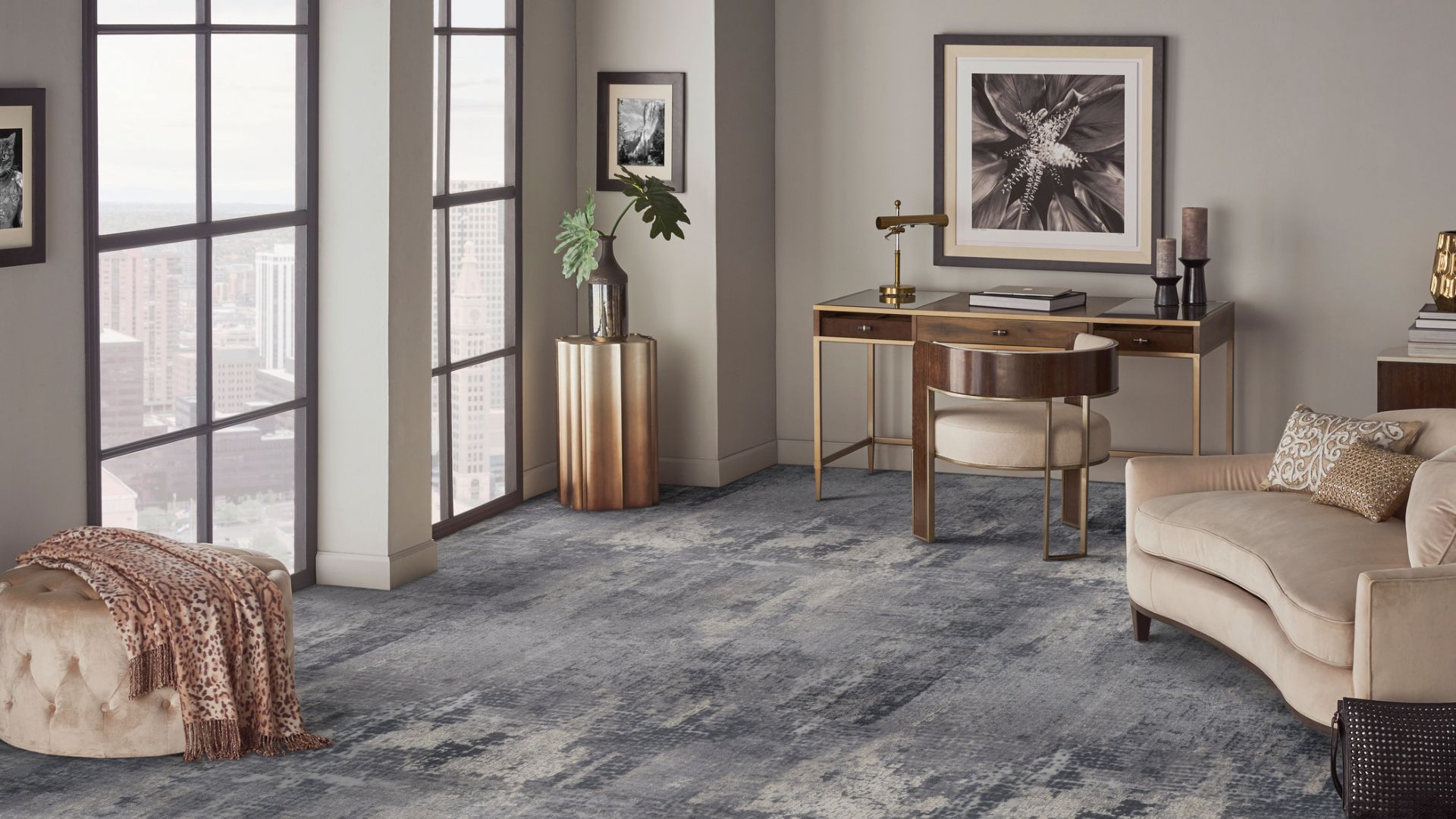 Types of Carpet
From non-slip textures to allergy-resistant surfaces, our wide range of carpet types offers something for everyone. If you live in a historic or older home with uneven subfloors, a new carpet can be the perfect solution to breathe new life into your living room, bedroom, or study. Our collection offers an array of eye-popping colors, from deep burgundy to calming blues, for those who love bold choices, while beiges and creams beautifully accentuate existing furniture styles.
The durability and performance of your carpet depend on various factors, including fiber type, pile height, face weight, gauge, twist level, tuft tie, density, and stitch rate. Choosing the right carpet can be overwhelming, but our flooring experts are always here to help. Let's explore some of our fantastic carpet types:
Frieze Carpet: With its plush cut-pile construction and long-lasting curling fibers, Frieze carpet adds a touch of texture and character to any room. It excels at camouflaging dirt and blending colors and patterns.

Loop & Cut-Loop Carpet: Loop carpeting features uncut loop fibers, providing a casual style and preventing foot imprints. Multi-loop options offer various pile heights for added interest. Cut-loop carpets, on the other hand, feature snag-free fibers, ideal for busy households with kids and pets.

Patterned Carpet: Utilizing printing techniques like flatbed screen printing and sophisticated computer-programmed jet printing, patterned carpets create stunning designs that resemble works of art, perfect for contemporary styles and luxury.

Saxony Carpet: Saxony carpets, with their cut-pile construction, exude luxury and are resistant to wear, shading, and traffic marks. Textured Saxony carpets offer a coarser appearance due to their twisted fibers.

Berber Carpet: Known for its lighter hues flecked with darker colors, Berber carpet is incredibly durable and adept at hiding soil, making it an excellent choice for high-traffic areas.
Choosing the Perfect Carpet
Selecting the ideal carpet for your home may seem daunting, but fear not! Our flooring experts are here to assist you, ensuring you find the perfect carpet that suits your needs and style. When considering your new carpet, take these essential factors into account for a seamless decision-making process:
Lifestyle & Foot-Traffic: Before choosing, assess your household's activity levels. Do you have energetic kids, playful pets, or frequent visitors? Understanding your lifestyle will help determine the level of foot traffic your carpet will endure. For high-traffic spaces, opt for carpets with superior durability and stain resistance, ensuring they withstand the test of time.

Fiber Types: Familiarize yourself with the various fiber types available, such as Berber, Saxony, and more. Each fiber has distinct characteristics, from luxurious softness to exceptional stain and fade resistance. Consider the carpet's resilience, especially in areas prone to heavy use, to make an informed and long-lasting choice.

Maintenance: Be realistic about your commitment to carpet maintenance. Some carpets require more regular vacuuming, professional deep cleaning, or spot treatments to keep them looking fresh and beautiful.

Color & Design: Harmonize your carpet selection with your existing space's design and color scheme. Whether you desire a carpet that complements your current decor or one that adds a bold statement, we offer a wide array of colors and patterns to match your vision.
At Greer's Flooring America, we understand that choosing the right carpet is an important investment. With our expert guidance and extensive selection, you'll find the perfect carpet to elevate the comfort and aesthetics of your cherished home in no time. Let's embark on this exciting journey together!
Where Can Carpet Be Installed?
Carpet isn't just limited to one room; it can transform multiple spaces throughout your home into havens of comfort and style. The versatility of carpets makes them ideal for bedrooms, where you can sink your feet into a plush, cozy surface every morning. Imagine creating a relaxing sanctuary in your living room with a luxurious carpet that sets the perfect tone for unwinding after a long day.
Modern carpets are engineered with cutting-edge technology, maintaining their fresh and appealing appearance for years. However, regular maintenance is key to keeping your carpets in pristine condition. Fear not! Routine practices like frequent vacuuming and occasional steam cleaning will safeguard your investment and prolong the lifespan of your cherished carpets.
Professional Carpet Installation
Consider using our in-professional technicians for installation before attempting a DIY carpet install. Inexperienced carpet installation might lead to mishaps or shoddy workmanship. Our staff is made up of thoroughly trained and experienced individuals who are committed to completing your home renovation project. Our Ultimate Confidence Guarantee covers all our carpet options.
Contact us today to learn why Greer's Flooring America is the right choice for your renovation goals. We proudly serve residents in Evansville, Princeton, and Mt. Vernon, IN, along with Henderson, KY.