Hardwood Flooring in Evansville, IN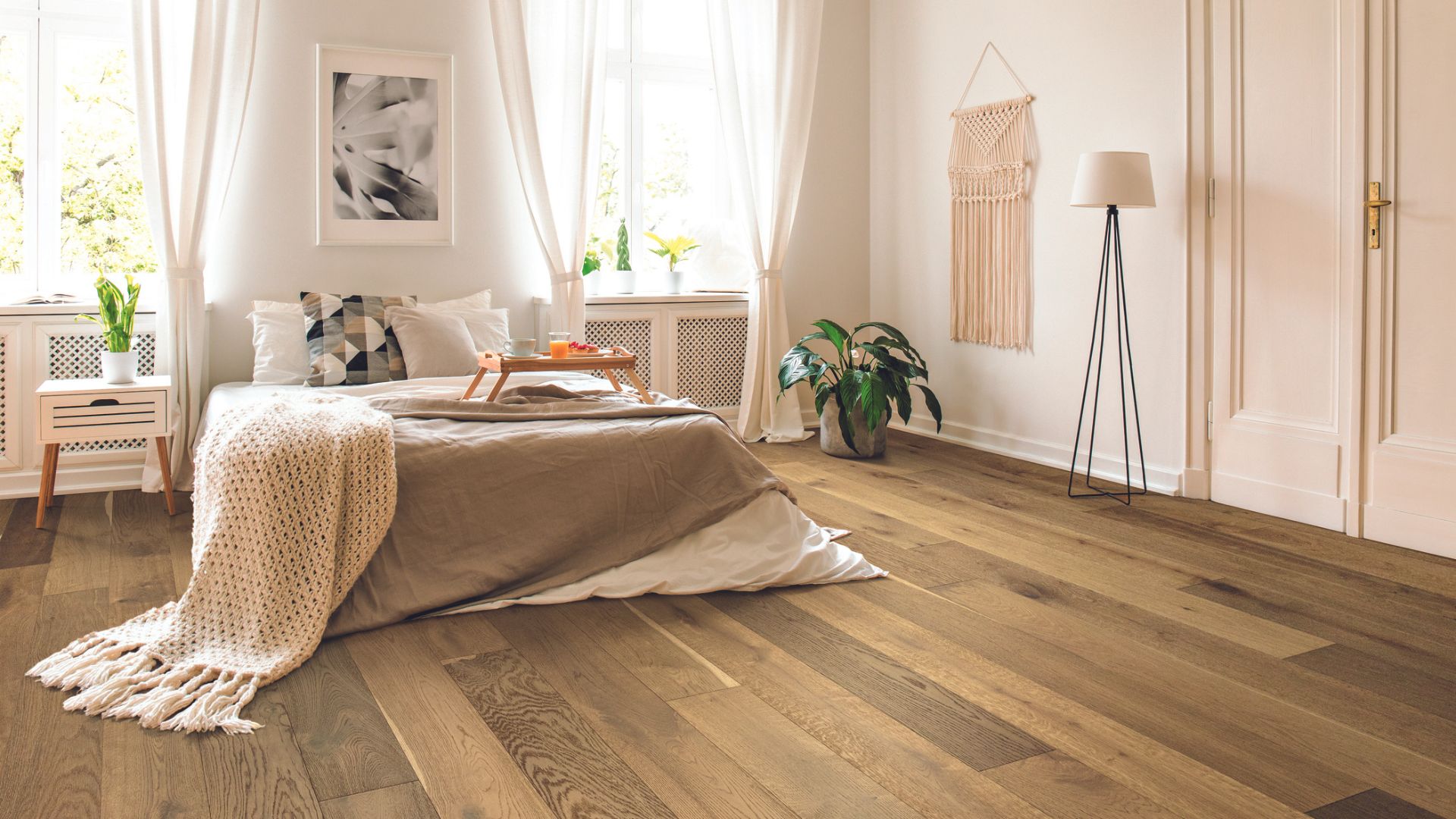 Welcome to the heart of hardwood elegance right here in Evansville! Imagine the warm embrace of timeless hardwood flooring in your home, speaking volumes of character and beauty unique to our town. Boasting stunning hues and textures, these floors can catch the sunlight just right, infusing your living spaces with instant style. It's no wonder that hardwood floors remain a beloved choice for our neighbors - its charm, durability, and knack for boosting property value make it a true gem.
When it's time for floors that can stand the test of time, look no further than Greer's Flooring America. Proudly serving our Evansville community, we know what it takes to make a home truly special. Thanks to our connection with a network of 500 stores nationwide, we can bring you the finest selection of top-quality hardwood flooring options. Every plank tells a story, and we invite you to explore our showroom, where a world of different brands and locally inspired wood species await your discovery. From cozy hickory to elegant oak, the possibilities are endless, and we can't wait to help you find your perfect match. Come to our showroom, and let's make your home's story one of enduring beauty right from the heart of Evansville!
Why You Should Choose Hardwood
Why choose the timeless charm of hardwood flooring? Let us count the ways:
Unmatched Elegance: There's a reason hardwood has been a staple in homes for generations. Its natural elegance adds a touch of class to any room, from cozy bedrooms to spacious living areas.
Durability That Lasts: Our hardwood floors are built to withstand the hustle and bustle of everyday life. They can handle whatever your family throws their way – from playful pets to energetic kids – while maintaining their stunning appearance.
Easy to Clean: Say goodbye to endless scrubbing and cleaning headaches. Hardwood floors are a breeze to maintain; a quick sweep or gentle mop keeps them looking their best.
Hypoallergenic Haven: Hardwood is a dream come true for those with allergies. Unlike carpets that trap allergens, these floors provide a clean and allergen-resistant surface, contributing to a healthier home environment.
Versatility in Design: Whether your style is rustic, modern, or anything in between, hardwood is a chameleon that adapts to your vision. Its diverse range of colors and grains perfectly matches your home's personality.
Long-Term Investment: Choosing hardwood flooring is an investment in your home's future. Not only does it increase the overall value of your property, but its longevity means you won't have to worry about frequent replacements.
Understanding Solid & Engineered Hardwood Flooring
Greer's Flooring America brings you a splendid array of hardwood flooring choices. Here are two of our finest:
Solid Hardwood Flooring: Embrace the everlasting allure of solid hardwood flooring. Each plank tells a story as it is crafted from a single piece of genuine hardwood, radiating natural beauty. With its robust compensation, solid hardwood floors can meet the challenges of time. You'll find satin, matte, or gloss finishes to match your taste. It is ideal for bedrooms, living areas, dining spaces, and hallways - just remember to treat it right to ensure its splendor.
Engineered Hardwood Flooring: If durability and moisture resistance are on your checklist, engineered hardwood flooring is your answer. Built with layers of wood and a premium hardwood veneer on top, this design boasts enhanced strength and stans tall against moisture, water, and humidity - even more so than solid hardwood. Thinking of spaces below ground level? Engineered hardwood is the savvy choice, especially for kitchens, bathrooms, and basements. It's a perfect blend of style and practicality that speaks to Evansville living.
How to Choose the Perfect Color for Your Hardwood Flooring
Picking the right color for your hardwood floors is like finding the perfect melody for your home's tune. Here's how to hit the right note:
Consider Your Space: Darker shades can add coziness to larger rooms, while lighter hues open up smaller spaces, giving an airy feel.
Match or Contrast: Align your floor color with your existing furniture and décor for a harmonious look, or go for contrast to create a statement piece.
Style Influence: Rustic or modern? The color can speak volumes about your chosen interior style—lighter tones for contemporary and deeper ones for a classic touch.
Natural Light: Take note of how much sunlight your space gets. Natural light can affect the color's appearance, so it's worth considering.
Samples Matter: Don't just rely on images. Get physical samples to see how they look in your home's lighting.
Professional Hardwood Flooring Installation
Trust our certified hardwood flooring installation professionals to install your brand-new hardwood flooring. We properly remove your old floors and replace them with the hardwood floors of your choice. From smooth and glossy to rugged and matte, we make your interior design visions come to life. You won't have to worry about us doing the job halfway when you hire our company. Our trained flooring professionals deliver superior installation services and customer care on every job we take on. We take great pride in our work, which shows in everything we do. After all, our customers are our greatest asset.
Our installations are backed by the Ultimate Confidence Guarantee, which satisfies you completely. We pledge that our detailed craftsmanship will make your design aspirations come true. If you should become dissatisfied with your floors within 30 days of installation, we will replace your floors with a product of equal value at no cost to you.


Contact us today to learn more about our hardwood options, among other flooring services! We proudly serve Evansville, Princeton, Mt. Vernon, IN, and Henderson, KY.