Vinyl Flooring in Evansville, IN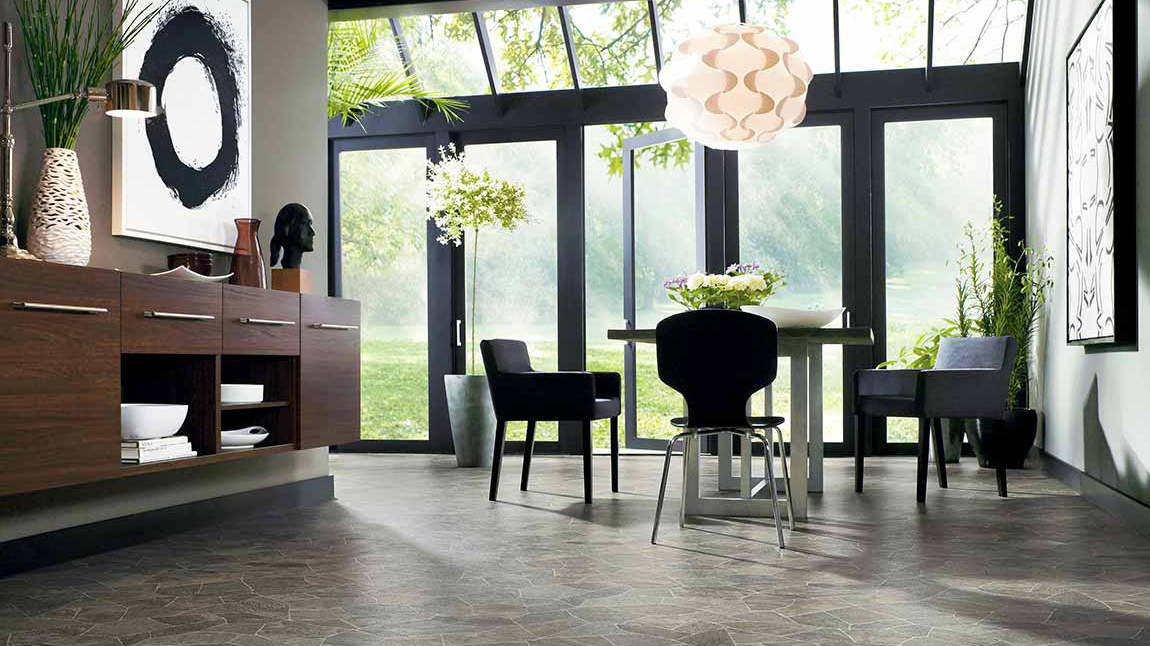 Transform your Evansville, IN, home with luxurious vinyl flooring from Greer's Flooring America. Discover the elegance of hardwood or the sophistication of ceramic tile with our LVP and LVT options, designed to fit any room.
Our vinyl flooring alternatives provide an affordable yet authentic look, mirroring the beauty of stone, ceramic, porcelain, marble, or hardwood floors. As the leading flooring provider in Evansville, thanks to Flooring America's nationwide network of 500 stores, we offer a vast inventory of colors, patterns, textures, and designs.
Visit our showroom today for expert guidance from our design team. We've covered everything from in-home measurements to product selection and professional installation. Elevate your home's aesthetic with Greer's luxury vinyl flooring – where quality and affordability meet.
Why Should You Choose Luxury Vinyl Floors?
Luxury vinyl floors are an excellent choice for Evansville homeowners seeking a winning combination of style, durability, and affordability. Here are some compelling reasons why you should choose luxury vinyl floors:
Authentic Aesthetics: Luxury vinyl floors convincingly mimic the look and feel of natural materials like hardwood, ceramic, stone, marble, and porcelain, offering a wide range of design options.
Exceptional Durability: These floors are engineered to withstand heavy foot traffic, resist scratches, and repel moisture, making them ideal for high-traffic areas and even bathrooms and kitchens.
Cost-Effective: Luxury vinyl is considerably more budget-friendly than its natural counterparts, providing an upscale appearance without the hefty price tag.
Easy Maintenance: Cleaning and maintaining luxury vinyl floors is a breeze – they only require regular sweeping and occasional mopping, saving you time and effort.
Comfort Underfoot: Luxury vinyl's cushioned layers offer a comfortable and quieter walking surface, creating a more pleasant living environment.
Versatility: Available in plank (LVP) and tile (LVT) formats, luxury vinyl can seamlessly adapt to any room in your home, allowing for creative design choices.
Installation Flexibility: Luxury vinyl can be installed over existing floors, reducing the need for extensive subfloor preparations and minimizing installation time and cost.
Hypoallergenic: Unlike carpet, luxury vinyl doesn't trap allergens like dust and pet dander, promoting better indoor air quality.
Fade Resistance: UV-resistant finishes ensure that your luxury vinyl floors maintain their vibrant colors even when exposed to sunlight.
Luxury vinyl floors offer a winning combination of style, durability, and affordability. Their authentic aesthetics and numerous practical benefits make them a smart choice for homeowners looking to enhance their living spaces with beautiful, resilient flooring.
Types of Luxury Vinyl Flooring
Regarding luxury vinyl flooring, two popular options dominate the market: luxury vinyl tile (LVT) and luxury vinyl plank (LVP). Both choices are designed with dense layers to replicate the authentic look of hardwood or ceramic tile, providing you with the elegance you desire. Let's take a closer look at each option:
LVP: Luxury vinyl plank flooring perfectly mimics the appearance of real wood, offering the timeless beauty of hardwood floors without the high maintenance and cost. With a wide range of styles, colors, and textures, you can choose from classic oak to modern maple, ensuring a seamless fit with your interior design. Each plank is thoughtfully designed to fit together, creating a natural-looking and inviting atmosphere in any room.
LVT: For those who desire the charm of natural stone or ceramic tile, luxury vinyl tile is the ultimate solution. LVT offers diverse options, including slate, travertine, marble, and more. With LVT, you can achieve the luxurious look of real stone or tile flooring while enjoying the comfort and warmth that vinyl provides underfoot. It's the perfect blend of elegance and practicality.
Luxury Vinyl vs. Hardwood Flooring
Choosing between luxury vinyl and hardwood flooring is pivotal in home design. Luxury vinyl (LVP and LVT) presents itself as a versatile, budget-friendly alternative to hardwood, faithfully replicating its natural aesthetics with various wood species and finishes. Notably, luxury vinyl outshines hardwood in terms of durability, easy resistance to scratches and moisture, and easy wear. Maintenance is a breeze, requiring only regular sweeping and occasional mopping. Additionally, it offers installation flexibility with various methods.
On the other hand, hardwood flooring radiates timeless elegance, enhancing a space's visual appeal with its innate warmth and character. It excels in longevity, can last for generations, and can even be refinished to extend its lifespan. Hardwood typically adds value to a home, making it a sound investment for resale. Sustainable hardwood options also cater to environmental concerns. The choice between luxury vinyl and hardwood hinges on factors like budget, design preferences, and lifestyle, as each material brings unique strengths.
Professional Luxury Vinyl Flooring Installation
Get the best value from your purchase and ensure that your home is protected during a flooring project by turning to our team to install your new floors. When you turn to our team for luxury vinyl flooring installation, you can rest easy knowing that your home is in good hands. A DIY install can lead to shoddy craftsmanship. We take the proper steps to ensure everything goes smoothly, producing the finest finished product possible. Following purchasing your luxury vinyl floor, you can schedule an appointment with our team at a time that works best for you. An Ultimate Confidence Guarantee backs our LVP and LVT products. We are positive that you'll love our installation job, but should you find yourself dissatisfied, give us a call within 30 days. We will replace your product with a similar option free of charge.


Contact us to begin your flooring improvement plan. We proudly serve residents in Evansville, Princeton, and Mt. Vernon, IN, along with Henderson, KY.